…denk an den Linksverkehr auf der Themse!
Fotos und Bericht von Edith Hein

…wären wir aber diesem Hinweis nachgekommen, wir wären ständig auf Kollisionskurs gefahren; denn: auch in Großbritannien gilt auf internationalen Schiffahrtsstrassen Rechtsverkehr (vgl. auch die Erzählung von Alan Patrick Herbert "Backbord an Backbord").
Mit zwei Faltbooten, einem Pouch Zweier und einem Aerius Zweier starteten wir in Lechlade, einem kleinen romantischen Ort am Oberlauf der Themse. Das Ortsbild beherrscht die Kirche, ein Bau im Perpendicularstil, von tiefer schlichter Schönheit. Etwas oberhalb des Ortes, bei Inglesham beginnt die schiffbare Themse – wohl könnte man mit Faltbooten auch noch oberhalb des Ortes einsetzen, aber für die motorbetriebene Schiffahrt dürfte es flussauf zu eng und seicht sein.
Ein Bootstyp ist hauptsächlich auf den englischen Flüssen und Kanälen unterwegs: lange schmale Boote mit geringem Tiefgang, eine Art Hausboot, sogenannte narrowboats. Wegen der überwiegend unbefestigten Ufer am Oberlauf dürfen sie nicht schneller als 8 km/h fahren, was dem Verkehr auf dem Fluss eine gewisse Ruhe gibt.
Die Themse fließt über 215 Meilen von West nach Ost; in Lechlade nur wenige Meter breit, teilt sie später mit Macht die Londoner Innenstadt. Der Fluss ist im Oberlauf erst durch Aufstauen schiffbar geworden, nach je 4 oder 5 Kilometern wird die Fahrt durch eine Schleuse unterbrochen. Die erste Schleuse befindet sich bei Lechlade, die letzte in Teddington, von dort an ist der Tidenhub zu spüren.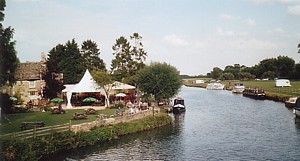 Die Themse ist weitestgehend strömungsfrei, bedingt durch die zahlreichen Stauwehre. Die meisten Schleusen werden noch von Hand bedient; dies übernimmt zwischen 7.00 Uhr und 19.00 Uhr ein Schleusenwärter. Bemerkenswert sind die schönen und gepflegten Schleusenhäuser an den Stauwerken. Tagesetappen von 30 km sind zu schaffen, allerdings ist bedingt durch gelegentliche Wartezeiten vor den Schleusen mit einer durchschnittlichen Geschwindigkeit von unter 5 km/h zu rechnen. Insbesondere an den Wochenenden staut es sich vor den Schleusentoren und gelegentlich werden die Schleusenkammern so präzise gefüllt, dass noch nicht einmal mehr ein Faltboot dazwischen passt.
Zu Beginn der Fahrt ist eine Art Vignette pro Boot zu lösen; eine Wochenkarte für ein Faltboot kostete im Sommer 2005 lediglich 4,50 Pfund. Schwierig gestaltet sich teilweise die Suche nach einem ufernahen Campingplatz, selbst in Oxford liegt der durchaus exquisite Campingplatz fast einen Kilometer vom Fluss entfernt. Hier haben wir einen Kanuclub gefunden, auf dessen Gelände wir unsere Boote ablegen konnten. Die kulinarischen Bedürfnisse sind leichter zu befriedigen: es finden sich entlang des Flusses zahlreiche Biergärten und Restaurants. Nebenbei: das Essen in England ist bei weitem nicht so schlecht wie sein Ruf!
Beeindruckend sind die zahlreichen Brücken über dem Fluss: die älteste überspannt bei Newbridge die Themse, sie stammt aus dem 13. Jahrhundert. Bis hin zu modernen Brückenbauten sind alle Jahrhunderte und Baustile vertreten, ob in Holz, Stein oder Eisen gebaut.
Dem kunsthistorisch interessierten Paddler ist ein kurzer, etwas abenteuerlicher Ausflug nach Dorchester zu empfehlen: hierzu zweigt man in den River Thame ab – stellenweise kaum breiter als 2 Meter und urwaldartig von Grünpflanzen überwuchert. Auch mit dem Faltboot ist ein solcher Abstecher möglich, aber – vorsichtig fahren. Belohnt wird man in dem etwas verträumten Ort mit der Dorchester Abbey, einem Bau aus dem 12./13. Jahrhundert, teilweise mit noch erhaltenen Wirtschafts- und Wohnbauten der alten Abtei. Als weitere sehenswerte Orte an der Themse seien erwähnt: Oxford, Wallingford, Henley on Thames, Windsor, Eton; aber sicherlich ist diese Aufzählung nicht abschließend.

Literatur:
Jerome K. Jerome: Three Men in a Boat: To Say Nothing of the Dog
Kenneth Grahame: The wind in the willows (Grahame lebte in Pangbourne an der Themse)
Flussführer / Internet:
Guide to the waterways no. 7: river thames & the southern waterways, Nicholson new edition, ISBN 0-00-713670-6
River Thames – a user's guide, Info-Heft der environment agency, gibt es an jeder Staustufe.
Discover the River Thames – Informative Karte über die möglichen Aktivitäten entlang der Themse (www.visitthames.co.uk)
Alan Patrick Herbert: Backbord an Backbord
Rumpelheimer versus Haddock
In dieser durch schwierige Fragen des See- und Landverkehrsrechts vertrackten Sache wurde heute die Entscheidung gefällt. Der Präsident des Gerichtshofs für Nachlaß-, Scheidungs- und Seeschiffahrtssachen (mit Assistenz eines Beisitzers) verkündete folgendes Urteil.
Diese Klage war ursprünglich bei der King's Bench erhoben worden; aber der Herr Richter Saft fand, daß die zu entscheidenden Fragen dem Seerecht angehören; obwohl Klagegrund der Schaden an einem Personenkraftwagen war, ist der Fall von der King's Bench an dieses Gericht verwiesen worden.
Herr Rumpelheimer nimmt Herrn Haddock wegen fahrlässigen Verhaltens auf einer Landstraße in Anspruch, demzufolge sein Automobil, ein kostbarer Botellini-Nine, beschädigt worden sei. Der Prozeß findet, wie heute üblich, nur formal zwischen den im Rubrum aufgeführten Parteien statt; in Wahrheit streiten sich zwei Versicherungsgesellschaften. Ohne Versicherungsgesellschaften gäbe es heute nur noch sehr wenige Prozesse welcher Art auch immer, und die Mitglieder des Juristenstandes schulden diesen Unternehmen einen Dank, den sie nur durch sorgfältige Arbeit und klare Entscheidungen abstatten können.
Am vergangenen 21. März fuhr Herr Rumpelheimer mit seinem Wagen auf der Chiswick Mall genannten Hauptverkehrsstraße, die längs des Nordufers der Themse läuft. Nun scheint es so zu sein, daß bei Sturm- und Springfluten, vor allem in den Zeiten der Tag- und Nachtgleiche, das Wasser der Themse über die Ufer tritt und auch diese Straße bis zu 70 cm auf der dem Fluß zugewandten Seite und etwa 10cm auf der andern Seite überflutet. Dies war auch an jenem Tage kurz vor dem Hochwasser die Situation, als Herr Rumpelheimer auf dem Wege zu einer wichtigen geschäftlichen Verabredung in der Londoner City die Mall entlangzufahren begann. Nach dem Ergebnis der Beweisaufnahme hielt er sich mit Bedacht auf der linken, landzugewandten Seite der Straße, wo man durch das seichte Wasser noch ohne Risiko fahren konnte. Indessen sah er, wie er vorträgt, zu seiner Bestürzung auf derselben Straßenseite den Beklagten, Herrn Haddock, auf sich zukommen, der ein kleines Boot von geringem Tiefgang mit Hilfe eines Paddels steuerte. Der Kläger betätigte kräftig seine Hupe, aber der Beklagte behielt seinen Kurs bei. Herr Rumpelheimer brüllte mit Artigkeit: "Runter von der Straße, Sie Trottel", und Herr Haddock erwiderte – wie er im Kreuzverhör zugab -: "Backbord an Backbord, Sie blöder Kaffer! Sind Ihnen denn die Regeln zur Verhütung von Schiffskollisionen auf See unbekannt? Ich bleibe an Steuerbord."
Der Kläger entnahm diesen Worten, daß er es mit einem Irrsinnigen zu tun habe, und in einer in dieser Lage löblichen Anwandlung von Menschlichkeit riß er seinen Wagen scharf nach rechts, um einen Zusammenstoß mit dem kümmerlichen Fahrzeug des Beklagten zu vermeiden. Aber diese Manöver führte ihn in das tiefere Wasser, das in seinen feinnervigen Motor eindrang und ihn zum Stehen brachte. Es wäre nicht rätlich, bei dem Meinungsaustausch zu verweilen, der nun folgte und der rundheraus zugunsten der Lebensart und der Erziehung beider Parteien wenig hergibt. Herr Rumpelheimer war genötigt, bis zum Fallen der Flut an Ort und Stelle zu verbleiben (übrigens lehnte es Herr Haddock in grober Mißachtung seemännischer Gepflogenheiten ab, ihn mit seinem Boot an den Strand oder auf den Bürgersteig zu bringen, mit der Begründung, er habe Krach befürchtet). Nach dein Ablaufen des Wassers stellte sich heraus, daß der Wagen ernsthaft beschädigt war, und er wurde zur nächsten Werkstatt abgeschleppt. Herr Rumpelheimer konnte seine Verabredung nicht einhalten und erlitt dadurch, wie er vorträgt, finanzielle Einbußen.
Die von Herrn Haddock produzierten Beweismittel waren höchst unbefriedigend, und wenn er glaubt, er könne sich dem Admiralitäts-Gericht Seiner Majestät durch das Absingen von Bruchstücken aus Seemanns-Shanties empfehlen, so irrt er. Auch hat er in diesen Prozeß ein beklagenswertes Element persönlicher Voreingenommenheit getragen. Er machte Bemerkungen über die persönliche Erscheinung des Klägers, deren rechtliche Unerheblichkeit ihm nicht entgangen sein konnte. Er trug vor, daß er ein- oder zweimal mit Befremden beobachtet habe, wie der Kläger in einem Luxuswagen ausländischer Provenienz in Gefährdung der Öffentlichkeit und zu seinem (Herrn Haddock's) Unbehagen und Schrecken die gesetzliche Geschwindigkeitsbeschränkung flagrant überschritten habe. Er sagte, der Kläger scheine zu glauben, daß er auf der Landstraße sein eigener Gesetzgeber sei, aber daß er (Herr Haddock) zum Teufel gehen wolle, wenn er (Herr Rumpelheimer) mit dieser Einstellung auch auf hoher See davonkomme. Er habe daher so gehandelt wie geschehen, und zwar mit der Absicht, Herrn Rumpelheimer aus der Fassung zu bringen, aber im Glauben, daß das Recht, d.h. die Regeln über die Verhinderung von Kollisionen auf See oder in Tidegewässern auf seiner Seite seien.
Der Beklagte ist offenbar so rückständig, daß er denWert des Kraftfahrzeuges für die menschliche Rasse nur unzulänglich zu begreifen vermag. Indessen dürfen wir unserer natürlichen Abscheu gegenüber einem solchen Individuum eine Trübung unserer Urteilskraft nicht gestatten. Auch der niedrigste und von den gemeinsten Motiven angetriebene Bürger kann darauf bestehen, daß sich das
Recht durchsetze. Die Frage ist nur: Was ist das Recht?" eine Frage, die sich unseren Gerichten häufig stellt und gelegentlich auch befriedigend beantwortet wird. Das Straßenverkehrsrecht oder die entsprechende Übung besagt, daß einander begegnende Fahrzeuge sich links halten müssen. Aber das Seerecht und die entsprechende Übung besagen, daß einander begegnende Schiffe nach Steuerbord fahren und Backbord an Backbord passieren, d. h. sie müssen sich rechts halten. Herr Haddock trägt vor: wenn das Wasser die Straße überflute, so werde die Straße zu einer Wasserstraße, und folgerichtig werde der Verkehr durch die Regeln und Gewohnheiten der Schiff fahrt beherrscht; er habe daher korrekt gehandelt, wenn er Herrn Rumpelheimer an Backbord passiert habe. Überdies muß ein Dampfer einem Ruderboot ausweichen, und Herr Haddock meint, daß das Auto des Klägers, wenn es auf einer Wasserstraße fahre, den Status eines Dampfers habe und daß der Kläger an allem selbst schuld sei.
Wir finden, wiewchl nicht ohne beträchtliches Zögern, daß diese Überlegungen einiges für sich haben. Das Landverkehrsrecht sagt dies, das Seeverkehrsrecht sagt das Gegenteil. Und es ist evident, daß auf schiffbarem Gewässer das Seeverkehrsrecht den Vorzug verdient. Abwegig ist die Meinung, Chiswick Mall sei zur Zeit des Unfalls nicht schiffbares Gewässer gewesen; denn unstreitig schiffte Herr Haddock auf dieser Straße, und wenn Herr Rumpelheimer dieses schiffbare Gewässer zur selben Zeit zu befahren gewillt war, so war er an die zuständigen Verkehrsregeln gebunden und hätte sich mit ihnen vertraut machen müssen. Herr Rumpelheimer erhebt den recht kindischen Einwand, sein Wagen sei kein Schiff und dürfe als solches auch nicht behandelt werden. Ich sehe darin keine Schwierigkeit. Die neuerliche Entwicklung des Verbrennungsmotores und vor allem der Außenbordmotor haben Typen von Wasserfahrzeugen entstehen lassen, die nach Ansehen und Gehalt nichts anderes sind als schwimmende Kraftfahrzeuge; und obwohl Herrn Rumpelheimer's Wagen nicht seetüchtig ist, ist er doch in anderem Betrachte ebenso ein Boot wie viele Motorboote. Ob Boot oder nicht, das Wesentliche ist, daß er eine Wasserstraße befuhr.
Dagegen wurde für den Kläger vorgebracht, die Landstraße habe durch eine außergewöhnliche Überflutung nur für kurze Zeit unter Wasser gestanden und habe dadurch den Charakter als Landstraße nicht verloren. Aber es würde eingefährliches und verwirrendes Präjudiz schaff en, wollte man dieses Argument übernehmen. Man stelle sich vor, daß große Teile unserer südlichen Grafschaften für längere Zeit von exzeptionellen Sturmfluten überschwenunt werden und die Einwohner daher genötigt sind, diese Gebiete mit Dampfern und Motorbooten zu befahren. Kann man ernstlich bezweifeln, daß die Schiffahrtsregeln (über die Vermeidung von Kollisionen, über Positionslichter, Nebelhörner usw.) in diesen Gegenden beachtet und durchgesetzt werden müssen? Im Prinzip ist dieser vorgestellte Fall unserem Fall gleich, und Gradunterschiede gestatten keine Abweichung von gesunden Grundsätzen. Der Umstand, daß ein bestimmtes Gewässer einst trockenes Land war und in Zukunft wieder Land werden könnte, ist unerheblich. Vielerlei, was wir heute Land nennen, war einst vom Meer bedeckt und umgekehrt; aber ein Kraftfahrer kann sich dennoch nicht, wenn er durch die Romney-Marsch fährt, auf Seeverkehrsrecht mit der Begründung berufen, daß dies Land vorher Meer gewesen sei. Daher pocht der Kläger vergeblich darauf, daß die Chiswick Mall vorher Land war. Es geht hier stets um die Tatfrage: war diese Gegend irn entscheidenden Zeitpunkt Wasser oder trockenes Land? Und weder Größe noch Dauer sind erheblich. Wir kommen zu dem Ergebnis, daß die Unfallszene Wasser war, und zwar Tidewasser. Tidewäs5er fließen in die Ozeane und werden von den Schiffen aller seefahrenden Nationen befahren. Die Regeln, auf die sich Herr Haddock bezieht, sind nicht ausschließlich britischen Ursprungs, sondern beherrschen die Bewegungen und garantieren die Sicherheit der Schiffe in aller Welt. Die Völker vertrauen auf ihre allseitige Anwendung und wachen mit Eifer darüber. Es ist deutlich, welche internationalen Verwicklungen entstehen müßten, wenn es geschehen könnte, daß das Admiralitäts-Gericht Großbritanniens willens wäre, mit diesen Regeln zugunsten eines Kraftfahrers leichtfertig umzugehen, so minimal der Anlaß auch immer sein mag. Der Beklagte ist zwar kein Gentleman, aber das ist er weder zu Wasser noch zu Lande. Wir entscheiden zugunsten des Beklagten, so wenig wir ihn auch schätzen.